Our products and services can be combined in an unlimited number of ways. Your project is unique in its location, construction and uses. Big Ben's works on factories, to tilt up panels and industrial blocks. If you need us on the ground or hanging from the rafters – we have fully licensed operators to paint high, usually inaccessible areas.
Our experience ensures that the right questions are asked and the best solution determined.
Big Ben's can complete a range of industrial related painting projects including:
Industrial Specialties:
Metalics
Two Pac & Epoxy Finishes
Equipment cleaning and painting
Process pipe painting
Fireproofing, Fire Safeing
Floor Preparation & Coatings
Monolithic coatings
Non-skid flooring
Lab floors
Abrasive blasting
Hydro blasting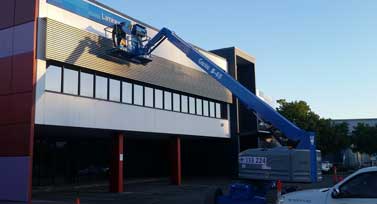 Working with Contractors
Big Ben's understands the importance of effective resourcing for all projects. We have a dedicated Project Manager who works alongside our partner ensuring our quality service and professional relationships are maintained.
We have worked with Queensland's most well known developers and building contractors including:
Paynter Dixon
Walton Construction
GDW Commercial
GW Commercial
Vantage Developments
Marcus Constructions